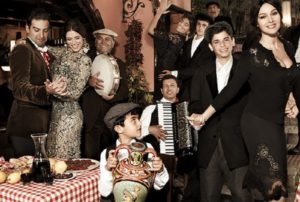 January 2020
Congratulations to my client from Saudi Arabia who marriage based I-130 Petition was approved! She currently lives in Egypt and her interview was originally scheduled in Riyadh. Her husband contacted the NVC because there is currently a travel ban preventing her from going to the interview. After the firm composed a very detailed letter to the NVC with evidence, we were just notified that they moved the interview to Cairo, Egypt. Soon she will be with her family! Congratulations to her again!
December 2019
When you got it…You got it! No matter what has happened in the past! Congratulations to my client from Nigeria who is getting his green card based on to his marriage to a U.S. Citizen after our interview today! And this is his fourth marriage! After three arranged marriages and divorces in the past based on his family's religion and tradition he finally decided to choose his own way and marry the woman he loves! And even more amazing is that one year to this day the same USCIS officer who interviewed him approved my Brazilian's client marriage based petition at an interview at the same place! Don't mistake coincidence for fate! Congratulations to him!!!
December 2019
Congratulations to my client from Guatemala! He was scheduled to be removed from the U.S. today but I went with him to his ICE appointment and the government accepted my Motion to Reopen based on Asylum! So glad he gets to be with his family for the holidays!!!!
November 2019
Congratulations to my client from Guinea who just got her 10 year green card today!!!! She was detained back in 2016 for coming here on the basis of asylum because her sister died and her tribe was forcing her to marry her deceased sister's husband as was the custom. And she refused and was beaten and tortured because of her beliefs against this practice that would destroy her life.
We successfully represented her and got her asylum in 2016! She has the cutest ever US citizen son now and today she let me know that she got her green card. She will be able to apply for citizenship in 2022!!! All is well with my soul!!!! God bless her and her family! Thanks to USCIS, ICE, DHS and the Elizabeth, NJ Immigration Court for making all of this happen!
September 2019
Congratulations to my client from Guinea! I originally met him from a client who happened to be his best friend that was detained and successfully freed by the firm in Immigration Court. He was married before and due to a breakdown in his first marriage and I.C.E. personally visiting his wife to interrogate her at home his his wife withdrew the I-130 petition.
There were serious issues especially because we did not have a record of what His first wife said or what may have been in writing.
And yet…..
I am so happy to announce that to combat any issues we came to the interview super prepared with tons of evidentiary proof for both his first and current marriage with his beautiful US citizen toddler daughter (and another baby on the way!)
He was approved two days ago. Congratulations to him, his USC beautiful wife, his USC daughter, and USC child on the way! And thank you to the AMAZING officer at USCIS who interviewed us. It is ALWAYS a pleasure to work w/ her because she is always on POINT and does not mess around! Hallelujah!
July 2019
Congratulations to my client from Thailand who was approved for her marriage based green card yesterday! We were all so prepared that the officer told us she'd be getting her green card in the mail soon! Thank you to those hard workers at USCIS that make the immigration process smooth, kind, and joyous amidst all that is going on right now!
June 2019
There are no coincidences. And sometimes a regular day turns out to be fantastic!!! My client, a US Citizen and I have been trying so hard to get his family here for the last two years from Nigeria. We were successful getting green cards for his spouse and his twin daughters even though at the time of the interview his daughters were over 21 and "aged out". And yet we were still successful!
But there was such difficulty getting his adopted 7 year old son here! Years and Years and appeals and filing fees due to adoption law! He contacted me today to introduce me to his wife and daughters who just arrived from Nigeria.
And TODAY he checked his mailbox before coming to see me and his adopted son was approved!!!!!! TODAY! This day…only this day! Congratulations to this beautiful family!!!! Hoping to meet his son in a few months!!!!
June 2019
Congratulations to my client from Jamaica again who was finally freed after 2 years of immigration prison for a marijuana charge! He came to visit us at the firm and is doing great! Breaking Chains!
June 2019
After a successful court hearing my married clients from Brazil and Portugal took me out to dinner at their favorite Portuguese restaurant! Plus it was their daughter's birthday so we had flan! Doing immigration law is so wonderful because when your client suffers a traumatic experience such as facing a deportation as it was in this instance, you will always be imprinted on each other's lives! We're all going to Six Flags this month just because I love roller-coasters and funnel cake so much and they are really cool people and my dear friends! Congratulations to them!
May 2019
Congratulations to my client from Jamaica, a permanent resident, who was just released today after being detained for TWO YEARS on a marijuana conviction by immigration even though his previous attorneys were not successful.
We filed an appeal with the BIA for ineffective assistance of counsel for his former attorney erroneously filing and taking my client's money when he was never eligible for cancellation of removal. I then advised my client to appeal his conviction and his immigration case is on appeal in the Third Circuit!
The District Court of New Jersey granted our Habeas Petition and with extremely short notice for the bond hearing (I am talking less than 24 hours) we were able to prepare a submission to the Immigration Court and my client was finally granted bond after all this time!
Our firm is so happy that he is finally being released and just in time to enjoy the Memorial Day Holiday with family, friends, and hopefully barbeques!!!!
Thank you to the firm's amazing paralegal Jonathan Silva for assisting last minute with our bond motion!!!
Another thank you to First Friends Organization for helping him to raise the bond money in such a short amount of time!
May 2019
Congratulations to my client from Jamaica! After almost 2 years of being detained even though he is a permanent resident (green card holder) on marijuana charges by immigration our Petition for Writ of Habeas Corpus was approved and the Federal District Court of New Jersey ordered an individualized bond hearing within 7 days!!!
The current law regarding convictions for any type of drugs—-even marijuana—-is mandatory detention! Thank you to the Federal District Court of NJ, the Immigration Court, and DHS for giving him this opportunity to finally be free!
Any of you who reading this that have drug convictions and are not U.S. citizens or have friends or family members detained in immigration prison for more than 6 months for a non-violent crime please contact my office by email at [email protected] or by phone at 412-512-4592. Freedom may be in your horizon!!!
April 2019
Thank you to my amazing client from Uzbekistan who spent hours preparing authentic plov (плов) as a thank you for the work on her mother and sister's visa application! She is super smart and I told her she would have a brilliant future in law if she wasn't going into medicine! Such a bright future for her! Her parents would be so proud!
March 2019
Congratulations to my client from Jamaica on getting his fiance visa approved in less than 5 months!
March 2019
Congratulations to my client from Guinea who was approved for her green card based on asylum!
I originally represented her almost 3 years ago while she was detained when her father attempted to force her to marry her sister's husband after her sister passed as this was the custom of her tribe. She was able to flee to the United States for safety. I remember when I went to prepare her for her final hearing the prison guard toId me she had been praying night and day non-stop! It has been a very long journey but she has come so far!!!! She has a great job, just gave birth to a beautiful child, is on her way to getting citizenship and has her whole life ahead of her! Thank you again to the Court and the government for giving her this opportunity!
January 2019
Congratulations to my client from Albania! He and his fiancé were on vacation for Christmas in Miami and they live in Philadelphia. While they were driving an officer pulled them over and asked for his I-94 which is crazy in and of itself but this is the world we are living in. He had been in prison for over a month. I filed an Emergency Motion for Bond Hearing which was granted and the Court gave him a very low bond despite the fact that his visa was expired. He and his fiancé flew back to Philly today! Thank you to the Miami Immigration Court and DHS for letting him go free so he can be with his family!!!!!
January 2019
Congratulations to my beautiful client from Egypt who was granted her citizenship today! She was granted asylum years ago after she left the country for fear of forced marriage, she was persecuted for changing her religion from Muslim to Christian, and was assualted because she refused to wear the veil. The officer was extremely impressed by how prepared and intelligent she was and even recommended her for a job translating Arabic for the government! Congratulations to her!!!!!!!!!!!!
January 2019
So very happy that the government shutdown did not affect my client from Romania who had his final hearing today in York, Pennsylvania! He has been detained for almost a year and as I requested he will soon be flown back to Romania to provide the support and love of his family and children! Sometimes it is a blessing to go HOME! Thank you to York ICE / DHS and the York Immigration Court for granting his New Year's wish!
November 2018
Congratulations to my client from Brazil who just got approved for his green card based on employment as a University professor! And a special thank you to the ICE officer at the Philadelphia Field Office who took time out of his day to give special authorization on his passport for my client to visit his mother in Brazil who is intensive care before his green card comes in the mail! He has not been able to visit her for 6 years but he will FINALLY be seeing her again this weekend! Wonderful news!!!!!
August 2018
Congratulations to my client from the Gambia who was released from prison in Newark, NJ after being detained for more than a year at the end of July! Even though he still has an appeal pending with the BIA regarding his asylum case, ICE decided to give him humanitarian parole so he can reside with this U.S. Citizen brother, and soon his parents will be emigrating to the United States as permanent residents! It is wonderful to know that even if you don't win the way you want to at the first attempt, you can still end up winning at the end of it all! Congratulations to him!
May 2018
Congratulations to my client from Sierra Leone who has just received asylum based on a fear of FGM (female genital mutilation) which she was almost forced to endure as it was a custom of her tribe and her family. She was first detained in September of 2015!
I won her appeal with the BIA (she was previously represented by another attorney in her immigration proceedings and the individual hearing) and the government kindly released her on parole at the next Master's Hearing!
At the last hearing in Newark in front of a different court (because she was no longer detained) the case was placed under advisement and the Court would either render a decision, send it back to the detained court for that judge to issue a decision, or we would have to go through another Individual Hearing.
To our surprise, the Court granted her asylum!!!! She has been through a long process and was detained for OVER TWO YEARS before her release due to the fact that it was extremely difficult for the Court to find court appointed translators who spoke Mende and she eventually had to use her third best language at the individual hearing. In the end it all worked out! Congratulations to her!!!!!
May 2018
Congratulations to my client from Guinea who was released from prison today! My client lost his appeal with the Board of Immigration Appeals because his custody was changed and he did not receive the Briefing Schedule or have an attorney to represent him. We filed a Motion to Reopen the case and a Stay of Removal last week. This morning I received frantic phone calls from his family that he was moved from detention in Massachussetts and we feared he was on his way to be deported.
After I contacted ICE, to everyone's surprise he was released today on an Order of Supervision!!! A special THANK YOU to the ICE Officer who went above and beyond his duty by contacting me THREE times today to secure safe transportation, and then again called me to confirm that he was safely in the UBER on the way to the train station! I am so glad my client will be with his family again in New York and we can continue to fight his case from the outside!!!!!!!
April 2018
Congratulations to my client from Guinea who was awarded Asylum today by the Oakdale, Louisiana Court on an appeal! He was a member of UFDG and his father was killed, his home ransacked, his mother was beaten, and he was detained and beaten multiple times. He was originally pro se for his Asylum hearing and lost. After I was retained I filed an Appeal with the BIA and won! Thank you to Ms. Mayberry of Rozas & Rozas law firm who appeared for me in person today in Louisiana to receive the Order from the Court and thank you to the Government for processing his paperwork so he can be with his family in Philadelphia!
March 2018
Congratulations to my client from Guinea who was awarded Asylum by the Immigration Court this week! He was a member of UFDG and his mother and sister were killed in the 2009 stadium attack in front of him and he was detained and beaten multiple times. He had wonderful sponsors to support him with the necessary documents and he was very credible. Even though his sponsor came to testify, the judge granted him Asylum only about an hour and a half in and we didn't even need his sponsor to testify as a witness! After the hearing was over the judge complimented me on my direct examination and preparation and said that it was a pleasure for me to be an attorney in his court. And the government also told me that I was great and it is rare for the judge to give compliments. We prepped for hours before the hearing and it paid off! Thank you to the government and the court for all their hard work and understanding!
March 2018
Congratulations to my client from El Salvador who was released yesterday with a grant of withholding of removal from the Immigration Court who also has a US citizen husband and US citizen child with an extremely complex case! She originally came here illegally over 10 years ago and was bonded out by the Immigration Court but her first attorney failed to give her notice of her next hearing and she was ordered removed in absentia.
Her next attorney was able to get her case reopened but was unable to get her out on bond due to the fact that she had a DUI conviction and a DUI arrest, Once she retained we filed the proper applications for asylum immediately and thereafter filed an I-130 Petition on behalf of her US citizen husband.
At the beginning of the hearing the Judge declined to give her bond due to a recent BIA decision regarding DUIs and wanted to give her voluntary departure which meant she would have to be removed to El Salvador.
We proceeded with the bond hearing on the record to preserve her rights, and then proceeded with the Individual Hearing for Asylum based on her abusive relationship with a member of MS-13. The judge decided to grant her withholding of removal even though her asylum application was filed over 10 years later and also gave us an opportunity to refile if anything changes for her green card.
And even though the government reserved their right to appeal, and they could hold her in detention for another 90 days she was released yesterday! Thank you to the Immigration Court and DHS for all their hard work. My client after being detained for almost 8 months is finally free and able to be with her family on this wonderful snow day! She told me the day before she had her a dream that her father had told her she would be okay. I am glad that miracles still happen and I want the world to know that if you are in immigration troubles, please don't give up because you can find a way. Congratulations to her!!!
February 2018
Congratulations to my wonderful client from Morocco who after a long wait passed her marriage based green card interview at USCIS with flying colors today! She will be able to apply for her citizenship in 2020!
February 2018
Congratulations to my client from Burkina Faso who was a victim of female genital mutilation and we won asylum a year ago! Our I-730 Petition was approved and her daughter successfully completed her Immigration interview today and she will be getting her visa to come to the United States as a refugee this week!
February 2018
Very pleased to announce that my client from Guinea who has been detained for almost a year was granted Asylum on account of his political beliefs as an activist in UFDG from the Orlando, Florida Immigration Court! His mother was murdered in the stadium attack for her beliefs as well, and he was detained and beaten so many times in Guinea that he almost died until his sister begged the prison to take him to the hospital where he stayed for a month. Thank you to the Court and the U.S. Department of Homeland Security for allowing him to live in a country where you can voice your political beliefs without fear of harm. Congratulations to him!!!!
November 2017
What an amazing week! Just received confirmation today that one of my clients from El Salvador was finally released! She was here under temporary protected status and was placed in deportation proceedings following a criminal charge which was dropped. Her mother who is a US citizen filed an I-130 Petition for her which was approved BACK IN 1991. She had an attorney at the time who incorrectly filed her I-485 Application with the BIA which was rejected for failure to file a certificate of service even though my client had paid all those expensive filing fees YEARS AGO! This is a classic case of paperwork error that was not my client's fault!
We were only made aware of this at her first hearing, yet she was already detained. The government filed a Motion to Recalendar so the BIA could reopen the case and send it back to Immigration Court. At the second hearing the Court reduced her bond amount to $6,000 upon my Motion for Reconsideration which her family could finally afford. She has been detained since April! Congratulations to her, her family, and her U.S. citizen children!
November 2017
Congratulations to another one of my clients who was released this week on the parole! He is a citizen of Guinea and was detained in Batavia, New York requesting political asylum for his membership in UFDG (United Forces of Democratic of Guinea), but his and many other detainees' parole requests had not been timely processed. The ACLU (American Civil Liberties Union) of New York got involved, we resent the parole application, and he was released along with three other people! He is now residing in New York with his family. Thank you to the ACLU and ICE for helping him be free and fight his case from the outside!
November 2017
Congratulations to my client from Sudan who was released this week from prison! His Asylum Application was granted by the Court at his Individual Hearing due to the fact that his family was a victim of genocide because they were members of the Zaghawa tribe and his imputed political party affiliation with the Justice Equality Movement. He spent most of life living in refugee camps in Sudan which were supposed to be safe, yet even his mother was murdered by the Janjaweed military while they were residing there.
I am so happy for him that he can be with his cousins here in the United States!
September 2017
Congratulations to my client from Brazil! She had been detained for two weeks because she was unaware she had a final order of removal from over 10 years ago, was ordered removed in absentia, and also has a US Citizen husband and child. She spoke to another lawyer who said there was nothing to be done in her case. I happened to be at the detention center visiting another client and she requested to speak to me for a second opinion and retained me. Within a week all of her petitions were filed, her Motion to Reopen was granted by the Court the following week, and the government released her on a bond so she didn't even have to attend the bond hearing! I am so happy she can be back again with her family!
August 2017
Congratulations to my client from Sierra Leone! She was previously represented by another attorney who lost her case even though my client had a credible fear of FGM (female genital mutilation) by her family. I filed her Appeal with the Board of Immigration Appeals which was granted AND the government graciously decided to give her parole after my prior requests since she has been detained now for over a year in half! We are all so happy that she is finally free and will be granted asylum!
July 2017
Congratulations to the one of the most amazing clients I know for being granted Asylum in the Court! My client is from Guinea where is illegal to be gay and you are subject to imprisonment without any type of trial. His boyfriend was murdered by the police after being detained for months and when they eventually found my client he was detained and almost beaten to death as well. I am so happy that he gets to start a new life in a country where he can truly be himself and not have to be afraid to love who he wants.
June 2017
I am very happy to announce that after an Individual Hearing yesterday, my client from Guinea who was persecuted on account of his membership in a political party was granted Asylum yesterday! He has been detained and away from his wife and children for months! He and his co-workers refused to participate in rigging an election. His co-workers were murdered and there were many attempts on his life and the life of his family. After our long preparation both the judge and the government were very pleased. The attorney for the government even thanked me for my organization and presentation and wished more attorneys were like me! Congratulations to him and his family who will soon be joining him in a country where you are free to express your political beliefs without fear of persecution!!!
May 2017
Yesterday was a four (4) hour individual hearing with my client in an Asylum case. She had serious fraud charges due to the fact that she misrepresented her identity on her visa applications, at visa interviews, and at customs. However, she was a victim of religious persecution as a Christian by the terrorist organization, Boko Haram which was why she made misrepresentations on her visa so she could leave the country. (It is extremely rare for clients from Nigeria to get visitor visas if they have no family within the United States) Her brother was murdered by Boko Haram in front of her, she was assaulted, and her church and her home and her family's home was burned down. It was a tough case, but I prepared my client well, discussed the issues with the government attorney, and the judge granted her ASYLUM! She was released today! Congratulations to her!
May 2017
This has been the most busiest day ever with three Court hearings!
Today, I presented a motion for bond for a lovely woman from
Ethiopia with a great asylum claim based on persecution of her tribe who had been detained for two weeks. The government wanted to settle for a high amount but I presented enough evidence that the judge ordered she be released on a significantly lower bail so she can be with her family again!
And later on today appeared for two clients, one claiming asylum from xenophobia in South Africa, and another client who suffered persecution in Sudan and got both court dates for their individual hearings in less than a month!
Congratulations to them!
April 2017
Even if you are detained with an aggravated felony doesn't mean you can't be released from immigration prison! Just this week, my client from the Dominican Republic who had been convicted for drug offenses had a bond hearing for a Writ of Habeas Corpus that was filed. Generally, when someone is convicted of a drug crime that have MANDATORY DETENTION until they are deported and my client had been detained for OVER A YEAR. Because the appeal I filed was still pending, and his order of deportation was not final, we were able to have the Court grant him a bond so he can be released and be with his family!!!! Congratulations to him!
April 2017
Congratulations to my client from Israel who received his marriage based green card! We had everything prepared so that he was able to take multiple trips to Israel during the pendency of his application with USCIS permission, which resulted in a wonderful job to support him and his wife! His final interview lasted about only 5 minutes and he was approved right then and there and got his green card within a few days! Mazel tov!
March 2017
I am very happy to announce this week, I got criminal charges filed against my client from Senegal COMPLETELY DISMISSED BY THE PROSECUTION, and he was then released from Immigration Prison on a low-cash bond at his VERY FIRST immigration hearing! Congratulations to him!!!!!!
February 2017
Good News!!!! One of my clients from Nigeria finally got approved for her green card after we attended the interview of her and her husband! And just in time for her to travel and to visit her family this month! Congratulations to her!!!!
January 2017
Another successful Asylum winner in Court! My client from the Country of Burkina Faso had been detained for 4 months for arriving in the United States without a green card even though she had a valid unexpired visa. She was a victim of FGM and forced marriage, and after our countless meetings, hours of preparation, and three evidentiary filings, and two hearings, she was set free as an asylee in court and we will also save her daughter from the persecution that exists in her country! Congratulations to her!!!!
November 2016
It's always important to try to have a good relationship with opposing counsel and have all your documents organized and ready to present to the court! Earlier this week, I appeared for Court for a Bond Hearing. The two defense attorneys in front of me, were unprepared, did not have their record of convictions and the judge had to postpone the hearings for their clients for another TWO WEEKS! That means these immigrants had to just sit in prison for two more weeks just because their lawyers did not take the time to prepare their case or follow the rules of the Court. When I appeared in front of the Judge, counsel and I had already gone over the documents, the judge set a low cash bond for my client from Guatemala, and accepted our Application for Cancellation of Removal, which means my client may be able to get a green card and permanently be out of removal proceedings! All this was done at her very first hearing and she was only detained for a few days! Congratulations to her!
October 2016
It is always important to be represented by an Attorney any time you sign or make a statement under oath! Yesterday, I successfully represented an immigration client in front of judge after she failed her credible fear interview with her sworn testimony taken by an ICE officer. The consequences of failing a credible fear interview are almost impossible to overcome, and most people are immediately deported! She is from Haiti, and after reviewing her interview it appeared that her interpreter was not completely fluent in Haitian Creole. She was also very nervous and afraid while giving testimony because she did not have representation. After my firm was retained and with my help, within ONE DAY we prepared her Affidavit and supporting documents to support her Asylum claim based on her political beliefs. After our hearing, the judge VACATED the decision of the officer and now she will be able to apply for Asylum and hopefully be with her daughter within a few months. Congratulations to her!!!!!
September 2016
Another court hearing and another person granted Asylum on Monday!!! One of my clients, an intelligent beautiful woman from Ecuador with two young children had been detained since April of this year because she refused to continue being subject to rape and domestic violence by her common law husband. In Ecuador, women are viewed as property, the police do not get involved, and femicide (the killing of women based on gender) happens so often it was codified last year in their criminal laws. The judge decided to grant her asylum based on the testimony, my brief, and the current country conditions. While we were waiting for the Order she cried tears of joy so loud you could hear her throughout the entire courthouse. Congratulations to her!!!!!